Continued directly from previous post…
Monday arrived. We woke up early to call around and find a vet that would be able to help Nando. The lack of insurance made the process very difficult. It is uncommon for vets to offer payment plans, and our lack of knowledge surrounding what precisely was wrong with Nando, possible management plans, and costs involved made the process incredibly stressful.
Finally we found the perfect vet. It was a long and arduous search. Even after making the initial call to this veterinary centre, the wait continued. I am not sure of how much the COVID-19 pandemic contributed to our difficulties in being able to find a vet that was willing to operate on Nando, but I do hope that in normal circumstances it is not so difficult.
We had to wait for a call back whilst they established whether our description of Nando's injuries demanded urgent care and we would be eligible for their services. Unfortunately another day of waiting went by. Eventually we received a call back confirming that Nando would be able to be brought in that afternoon for an initial consultation.
The relief was huge, and my partner left work immediately to come home and drive us to the vet. On arrival, the Lockdown restrictions meant we had to wait outside and call to announce our arrival. The vet came to get Nando and we waited in the car for her return.
Note
I again wanted to take a moment to stress that with hindsight, not having Nando insured was a huge lapse in judgement on my part. Since this event all three of my cats have been put on insurance plans. The current system does little to support pet owners who do not have their pets insured, and it can be a frightening situation.
Media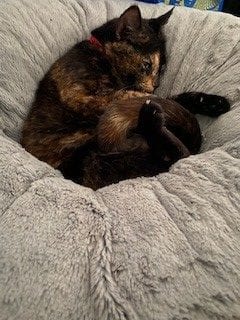 Here is a photo of Nando, as she seemingly endlessly waited for treatment.
Links